iSeries (AS/400)
The IBM AS/400 product line has a large world wide following. Although DCS has sold and installed a variety of new AS/400's, our hardware market now centers around good used refurbished systems. The units include a 30 day warranty which gives the customer sufficient time to take out an extended maintenance contract through IBM or a third party maintenance company. Click here for the latest IBM AS/400 information.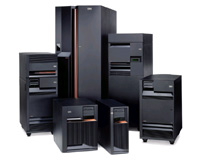 System/36
Are you still running that "dependable" System/36 that just will not quit? Are you reluctant to change to the AS/400 platform and retrain all your users? Are you facing application software problems? If you answered YES to any of these questions, we need to talk!
Advanced 36
DCS has a number of clients that are enjoying continued success with their Advanced 36 systems. Simplicity/2000 accounting/distribution software is a "perfect match" for the Advanced 36. This combination offers business owners an inexpensive package to use for years to come. Give us a call if you are in the market for a good used Advanced 36.